We are less than 24 hours away from the 2014 NFL Draft, and the excitment I am feeling right now is just off the charts. I am READY to get this started, as I believe there will be a ton of trades in this draft. I normally don't like to do trades, but I really believe the Dolphins will trade down with plenty of teams looking to trade back up, with Cleveland and San Francisco being the prime candidates.



I believe the Dolphins will consumate a trade with the Cleveland Browns and get the Browns 2nd 1st round pick, #26 along with the Browns 1st 3rd round pick at #83, and their 2nd 4th round pick at #127.



Let's take a look at how I believe this could play out for the Dolphins.





1) Morgan Moses, OT, Virginia - Moses has been showing up more and more in the later part of the 1st round in mock drafts. C.J Mosely is now being projected in the top 15 more and more and while I think Ryan Shazier is a very talented OLB, the Dolphins need an ILB. Moses helps address a HUGE need for Miami.



2) Martavis Bryant, WR, Clemson - Miami has stated they want a wide receiver with size, and Bryant not only fits the mode at 6'4, 211 lbs, he has big play speed and ability. He has maturity issues and was inconsistent while at Clemson, but he is a super talent and Miami has both Brandon Gibson and Brian Hartline coming off of knee injuries. Red Zone threat as well.



3) Dri Archer, RB/WR/KR, Kent State - Archer may not be here, but if he is, I believe Miami will snatch him up. The Dolphins have shown a lot of interest in this explosive playmaker. Archer can fill many roles, from return man to running back to wide receiver. 4.26 40 speed makes him a legitimate touchdown threat every time he touches the ball.



3) Terrance West, RB, Towson State - The Dolphins want a bigger back, as RB Daniel Thomas time with the Dolphins seem to be numbered. Miami has shown a lot of interest in Torrence and had a private workout with him.



4) Trai Turner, OG, LSU - The Dolphins look to fortify the offensive line with this talented OG from the premier conference in the nations, the SEC. Turner could be here and he could possibly go a round earlier, but the Dolphins have shown interest.


4) Preston Brown, ILB, Louisville - Miami has shown a lot of interest in ILB, as the Dolphins had interest in D'Qwell Jackson before he signed with the Colts. Miami is also tinkering with moving Koa Misi inside. Brown is a physical banger that Miami has shown interest in.



5) Craig Loston, SS, LSU - The Dolphins bought in SS Louis Delmas from Detroit, and while Louis is talented, he also has been let down by his body with injuries. Loston is a big, physical safety that can provided immediate depth behind Delmas.



6) Seantrel Henderson, OT, Miami - The Dolphins look to add more talent to an offensive line that needs it. Henderson has 1st round talent, but his immaturity and his inability to leave marijuana alone is why this kid is available at this point in the draft.



7) Aaron Colvin, CB, Oklahoma - You can never have enough good defensive backs. Colvin is here because he tore his ACL in the Senior Bowl. Talented football player.
_________________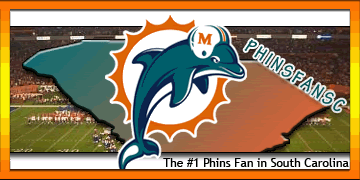 Last edited by phinsfansc on Thu May 08, 2014 7:37 pm, edited 2 times in total.