I remember this game as if it were yesterday. AJ Duhe had a monster of a game. May the Colts send the Jets into another tailspin.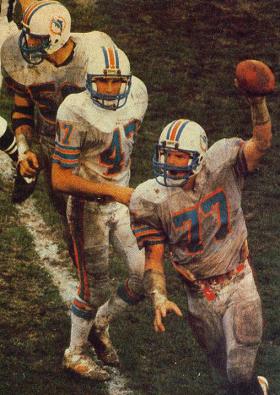 Quote:
Advice to these Jets from ghosts of title games past
by Steve Serby
NY Post

I remember the visiting locker room in the Orange Bowl after the Mud Bowl in January 1983 -- shell-shocked Jets sitting in stunned silence, slow to remove their mud-stained shoes and uniforms, their hearts broken, their dreams shattered. The Dolphins, 14-0 winners in the AFC Championship game, were going to the Super Bowl. The Jets were going home.

Marty Lyons was 26 years old at the time. "Don't worry," he remembers some of the coaches saying. "We'll get 'em next year."

Next year, of course, never came. Lyons was six years into retirement when Bill Parcells got the 1998 Jets back to within 60 minutes of a Super Bowl. It took 11 more years -- and five more head coaches if you count Bill Belichick's 24 hours on the job -- before Rex Ryan has gotten the 2009 Jets back to within 60 minutes of a Super Bowl.

So when you ask Lyons today what advice he would have for these Jets on Sunday in Indianapolis against Peyton Manning and the Colts, you should not be surprised by his answer.

"I think you gotta play like there's no tomorrow," Lyons said.

Because more often than not, whether you are a wide-eyed rookie or a 15-year veteran, there is no tomorrow.

In a matter of weeks, Walt Michaels was fired, replaced by offensive coordinator Joe Walton. A year later, Richard Todd, who threw five interceptions that miserable day, three to linebacker A.J. Duhe, would be traded to the Saints, replaced by No. 1 draft choice Ken O'Brien.

Sure, the Jets still had running back Freeman McNeil and speed receivers Wesley Walker and Lam Jones and bookend offensive tackles Marvin Powell and Chris Ward, and Lyons and Joe Klecko and Mark Gastineau on their New York Sack Exchange, but there was always that notion that Joe Namath had sold his soul to the devil for delivering on that Super Bowl III guarantee, there was always this black cloud that hovered over Weeb Ewbank Hall and followed the team to Giants Stadium, home of the Fake Spike and other assorted atrocities.

"You get 60 minutes from going to the Super Bowl and they fire your head coach," Lyons says now. "Figure that one."

Asked this week how disappointing the Mud Bowl was, Michaels said: "Are you kidding me? How much more did I coach in the NFL after that?"

Never again.

Michaels had a friend down in rain-drenched Miami who told him the field was not being covered in the days leading up to the game.

"I mentioned it to people in command in the Jet organization," Michaels said. "I thought it was all taken care of."

But when game day arrived, Michaels and team president Jim Kensil were horrified.

"It was a foot deep," Michaels said.

Michaels was informed that Don Shula's Dolphins did not own a tarp.

"It's a league rule to own a tarp," Michaels said.

I remember a somber Bill Parcells answering questions in the bowels of Mile High Stadium after the '98 Jets, 60 minutes from the Super Bowl, had blown a 10-0 lead to John Elway in the second half.

"We thought we could beat anybody," Wayne Chrebet, 25 then, recalls. "In the second half, we just imploded."

The flight home seemed endless.

"I was sick, sick as a dog," Keyshawn Johnson said. "Still get a knot in my stomach 20 years later, or however long it's been. I never thought I would play in another championship game and get to a Super Bowl ever again. I cried like a baby in the locker room, I don't know if you remember that."

Eight months later, on a warm, sun-splashed opening day at Giants Stadium, Vinny Testaverde ruptured his Achilles', and a season of championship expectations along with it. Testaverde, nearly 36, had come back home to Long Island to chase his dream.
The rest of the article (have kleenex ready)