This is a piece a wrote for something else, and figured I would post on here for discussion as well if anybody was interested....
You can't shut this offense, and more specifically, this passing game down. You can, however, slow it down and hopefully create some big plays throughout the game to make up for those chunk yards given up. Let's take a look at exactly what New Orleans likes to do, why they're so successful and how Kevin Coyle should counter that this weekend.
Usually I break down at least two game tapes when doing these types of reports. However, NFL Game rewind only has coach's tape for New Orleans' Week 1 and Week 2 games. Since Week 2 was the long-rain-delayed game against Tampa Bay and in an outdoor environment, I'm going to stick to their Week 1 game against Atlanta.
What the Saints try and do above all else is stretch the defense out. Sean Payton knows that he has three major advantages that dictate what a defense (seemingly) must do: 1) He has enough weapons at his disposal on the outside to make you feel uncomfortable playing man-to-man across the board. 2) He has an extremely dangerous weapon out of the backfield in Darren Sproles, which further discourages Defensive Coordinators from playing man-to-man, and more zone concepts with corners and LB's keeping an eye on Sproles. 3) He has a master of a QB who takes advantage of it all.
Forcing the Defense to play zone with coverage underneath can create huge mismatches.
As you can see in the photo above, this is a perfect example. The Saints came out in a 4 WR look, with a trips look, (three receivers on the same side), to the right of Brees. The Falcons counter this 3rd down play with a Tampa Cover 2 defense and send three men after Brees.
If you'll recall my three points mentioned above, the thinking by the Falcons is this: Brees is going to throw the football quickly, and with the field spread out we can't afford to blitz and/or play man coverage and let Sproles leak out of the backfield. All correct thinking; the problem is that this Cover 2 defense puts way too much pressure on the LB circled in the image. He has to cover the deep middle portion of the field, where Marquis Colston is headed. Brees sees it and turns it into a 25 yard touchdown pass. This was a very easy mismatch for the Saints to exploit.
Let's take a look at an example of why teams don't want to run man coverage against New Orleans, so that you don't just take my word for it.
As you can see, the Saints send five receivers down the field for Brees (again). Atlanta plays man coverage across the board, with two safeties deep. This leaves Sproles against a LB one on one. As you can see in the orange box, a linebacker is going to have no chance against Sproles. The Saints run a clear out with the receiver on the near side, and Sproles slips into the flat for a gain of 13 yards before the safety runs him out of bounds.
Again, New Orleans is all about taking advantage of what you do defensively, knowing that their vertical speed will open up at least one mismatch.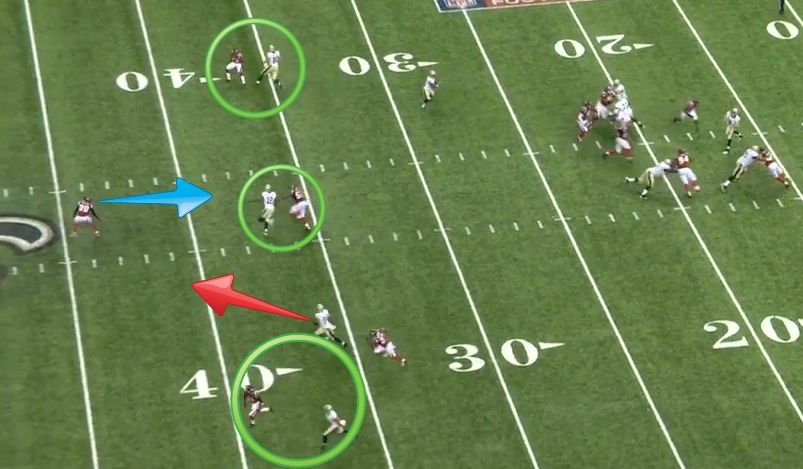 This time the Falcons decide to try and blitz Brees while playing man coverage. There's a single high safety over the top to make sure everything stays infront of the defense. The problem is that New Orleans, again, comes out in a trips look, forcing a LB in coverage on Marquis Colston. The safety recognizes the mismatch and flows to help out his LB. This leaves Kenny Stills one-on-one down the middle. Brees makes a deadly accurate throw, and the play goes for 67 yards.
Again, the Saints set this all up with vertical route combinations, opening the defense up. Also, as I mentioned earlier, part of the reason teams hate to blitz and play man coverage against the Saints is because Sproles can leak out of the backfield for a big play. As you can see above, while the throw went to Stills down the field, Sproles was wide open with acres of space in the flat (not circled).
While, as with any QB, applying pressure is critical, blitzing is not the way to do it against Brees. He was 8-9 for 148 yards and a TD in this game against the blitz. The Saints are too quick on the outside and Brees too good at reading defenses and making quick decisions to become blitz heavy defensively. You have to trust your 4-man rush to get there, play coverage on the back end, and understand that you aren't going to stop this offense; you're simply looking to contain it.
So how do you contain it?
Let's take a look at another play near the redzone, where New Orleans will once again try and run vertical routes to exploit a mismatch against zone coverage.
There's a lot going on in this picture, but as you should be able to tell, Atlanta is running a zone defense. The corners and safeties are all covering a deep zone, making this quarters coverage on the back end, with a middle LB also flowing into the soft area in-between the safeties, making a short pass over the LB's and under the safety to Jimmy Graham very difficult to execute, if not impossible. The safety's priority is keeping the ball away from Colston and Graham over the middle. The Falcons take this away perfectly on this play.
The remaining LB's are focused on not allowing any in-cut route from the outside, or Sproles leaking out of the backfield. The Saints end up completing the pass to Sproles, but for just a 7 yard play, forcing a field goal.
With all that said, I do think you have to mix in the blitz occasionally. The last thing you want to do is run the same concept over and over again defensively. If you do blitz, I actually don't agree with the popular sentiment to blitz LB's up the middle. The Saints do a good job in protecting Brees, with pressure up the middle being their priority. I think you need to use the Saints' trips formations against them. That is, use that tight slot corner as a blitzer. You'll need to disguise it well, but in moderation I think it could be very effective.
What the Falcons did wrong on the 67 yard play to Stills is that the blitz off the edge was slightly delayed, and to the far side of the play; Brees more times than not looks to his reads on the trips side of the play first, and with his long drop in the pocket it makes it difficult for that type of blitz to get there in time.
As for defending Jimmy Graham specifically, you have to bracket him with a LB and safety. In this game you'll have to trust your corners to do their job against New Orleans' receivers, but I do believe if you're playing man coverage you have to double cover Jimmy Graham, especially in the redzone. In zone coverage, make sure you have, like above, tight LB coverage underneath and safety coverage over the top to bracket Graham.
You can't stop everything; as a defense you're forced to pick your poison. However, if you play coverage and only send three or four men at Brees (primarily), mix up zone concepts in the back end, (although having at least four guys with deep responsibilities at all times), and make sure you have multiple sets of eyes devoted to Sproles out of the backfield, I think you can contain this offense enough to put Tannehill in a position to win the game.
There is going to be a lot of pressure on our LB's and young corners in this game. Hopefully they're up for it...