Miami added another piece to the secondary for DC Vance Joseph, as the Dolphins select SS Jordan Lucas with their 2nd 6th round pick. Once again, going with the theme for the new Dolphins regime, Miami takes a Big DB, as Lucas comes in at 6'0. 201 lbs.
A 3 year starter and team captain, Lucas played cornerback for 2 years before moving to safety. Versatile defensive back for Miami.
Here is the summary from NFL.Com.
Overview
Lucas was the first recruit to sign on with Bill O'Brien as the Nittany Lions fought through the rough times of the post-Joe Paterno era. He has played corner using his tenacious man-cover skills, and was also physical enough to move to safety (58 tackles, four for loss, two sacks along with nine passes defensed in 2014). His senior year was cut short due to injury (56 tackles, three pass breakups in nine starts), but Lucas could be a nice option in the slot for teams looking to regularly bring pressure from that area. Versatility is crucial in today's NFL, and Lucas has plenty to spare.
Pro Day Results

40-yard dash: 4.45 seconds
Vertical: 38 inches
Broad jump: 10 feet, 10 inches
Short shuttle: 4.21 seconds
3-cone drill: 6.78 seconds
Analysis
Strengths
Team captain and three-year starter. Played cornerback two years before moving to safety this year. Praised for his character and leadership. Doesn't need much runway to hit his burst gear to close. Plays with smooth feet and change of direction for the safety spot. Takes smart angles to the ball and rarely runs himself out of a play. Lined up over slots in sub-­packages.
Weaknesses
Has short arms and marginal speed. Lacks play­making instincts to put him in position to make more plays. Always seems to be a step slow to the ball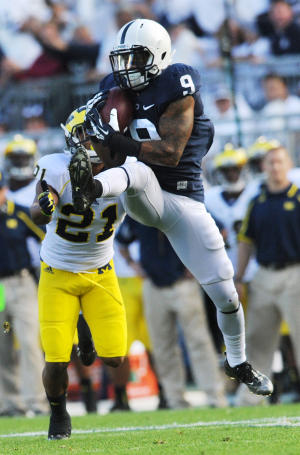 from the safety spot. Labored disengage in run support when blocked by tight ends near line of scrimmage. Missed final three games and Senior Bowl with shoulder injury that will be combed over at combine. Hits like a cornerback.
Draft Projection
Rounds 6 or 7
Bottom Line
Has good size for a cornerback and was credited with 25 passes defensed (including three interceptions) when he played that position so teams may look to move him back there. Lucas' lack of speed could be an issue at cornerback and his marginal play­making instincts aren't endearing at the safety spot so he might have to shine on special teams to get a foot in the door early on.
---
---
ESPN INSIDER ANALYSIS **